Deutsche Version dieses Postings
On our way to Macerata we passed this sign for a level crossing. Far in the background, behind the road overpass, one can see the flashing light actually securing the crossing: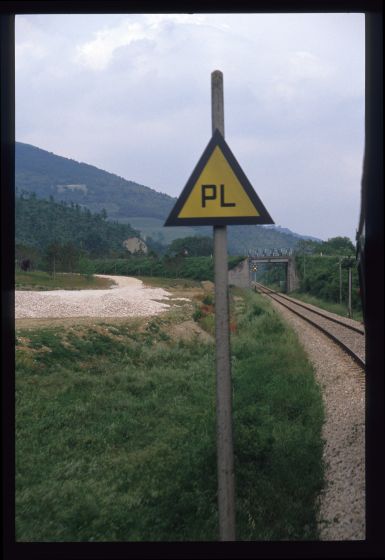 Level crossing warning post, near Tollentino, May 1990
The next picture shows a typical distant light signal with its approach sign. I am not sure where I took this photo: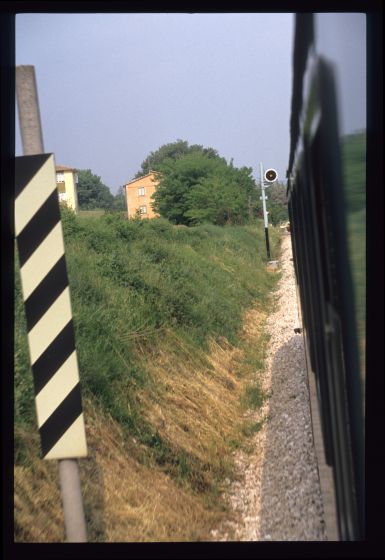 Distant signal, Tollentino?, May 1990
But here is the next lever frame! The following picture mainly shows mister traffic director in front of it: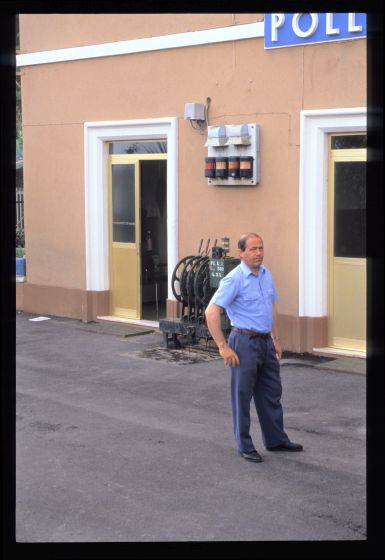 Interesting signal lever frame, Pollenza, May 1990
The enlargement below shows more details: On the right, there is a typical crank for barriers. The lever frame proper consists of four signal levers, whose wire rolls are all of the same size, and quite a large one at that. Most probably, the four levers are used for two distants and two home signals. The same size of the wheels could either be the consequence of all signals having compensators (which seems uncommon); or none of them having a compensator (also uncommon); or that the angle the levers are reversed is different for distant and home signals (would be very uncommon). My questions are:
Question 3: How are these levers connected to the single wire lines leading to the signals?
Question 4: Why do the wheels for all signals have the same size? Are there no compensators, or do all signals have compensators, or are the reversal angles different for the levers?
Below the levers, there seem to be some locks, which would then need "some linkage" to lock the wheels (or the handles?) of the signal levers.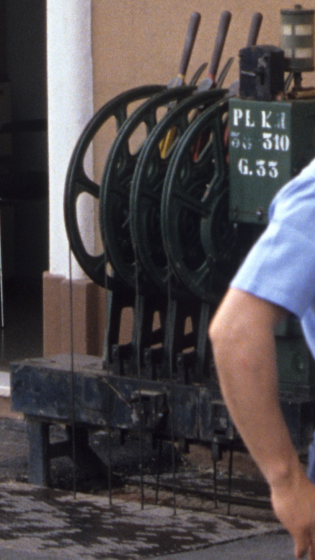 Interesting signal lever frame, Pollenza, May 1990
Unfortunately, this is the only picture I have of this type of frame.
On our way to the next station, I took a photo of the distant signal out of the rear of the train: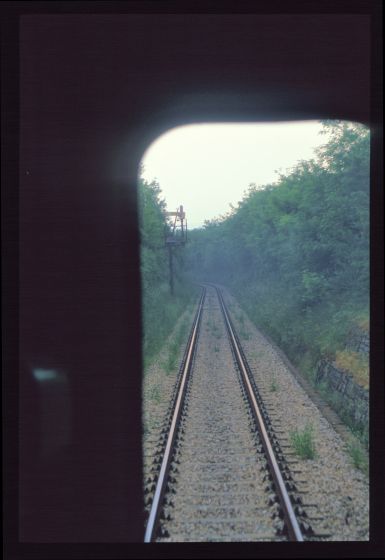 Distant signal, Pollenza, May 1990
... here it is enlarged, to show to romantic situation between all these trees: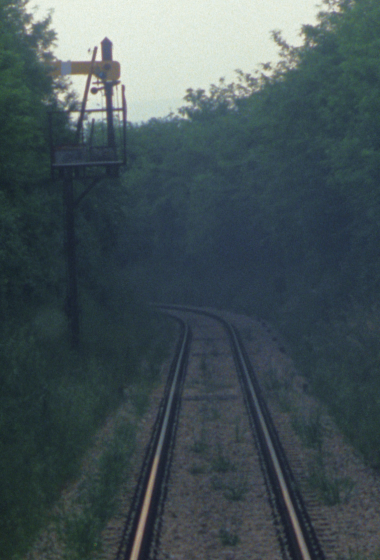 Distant signal, Pollenza, May 1990
And here is a picture of the unoccupied driver's seat at the rear of the diesel railcar: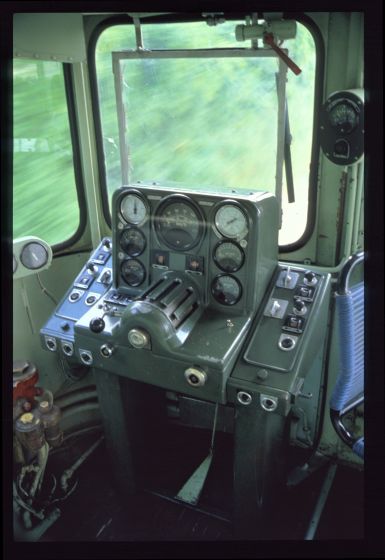 Driver's seat of an FS ALn 668, Pollenza, May 1990